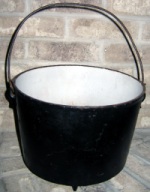 A few thoughts on Enamelware!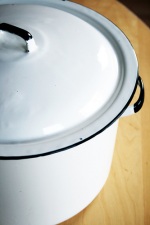 Think about enamel kitchen utensils today, and you probably imagine something coated all over in enamel. That certainly wasn't the case in the early years. To begin with, cooking pots were lined inside with enamel, but they looked like any other cast iron on the outside. People wanted a way of coating iron to stop metallic tastes or rust getting into food: something acid-resistant and easy to clean without laborious
scouring
, something more durable than the tin linings used inside copper.
The story of enamel cookware begins in the 1760s in Germany. The idea of finding a safe, convenient coating first took hold there: in scientific writing and in actual iron works. Fifty years later
vitreous enamel
linings, also called porcelain, for kitchen pans were becoming familiar in several European countries. Enamelling was no longer limited to decorative arts and crafts.
Were enamel-lined cooking pots really as clean and safe as they seemed? Some people praised them as far better than anything known before. Others spoke of poisonous ingredients leaching into the food. Finding out what cooks or housekeepers thought in the early days is not so easy.
Over the next few decades enamel-coated metal came into use for domestic pots, pans, basins, as well as for street signs, medical equipment and more. And yet enamelware was still a long way from the attractive and useful mass-produced utensils of the late 1800s and early 1900s.
Enamel in the USA: flourishing after a late start

Enamelled cookware came to the US after Western Europe. Around 1850 Americans began to own enamel-lined culinary utensils, but they were very plain, nothing like the colourful mottled surfaces that were yet to come. The Stuart & Peterson foundry in Philadelphia was making enamel-lined cast iron pots in the 1860s.
The interior of the hollow ware, as prepared by the steam lathe, is covered with a white paste, and put into the oven to be dried. After drying, it is transferred to an enamelling oven, where a white heat, sufficient to melt glass, is applied, which fuses this coating, making it soft as liquid glass. While in this state it is swiftly taken from the oven, rapidly covered with a white powder, and immediately returned back to the oven, where it is again subjected to a white heat, aud finally taken out to be gradually cooled in the open air. The enamel is, in fact, a regular coating of porcelain upon the metal, and with ordinary care is imperishable. On the contrary, the enamelled iron ware made in England (which has been nearly driven out of American consumption by Stuart & Peterson's manufacture) finally runs into an infinitesimal number of minute cracks, which chip off and render the vessel quite useless.
A history of American manufactures from 1608 to 1860, Bishop, Freedley, and Young, 1868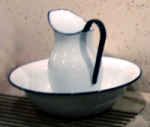 The utensils for roasting and even grinding coffee are now frequently lined with porcelain, as are many other articles for the kitchen. No doubt the porcelain is exceedingly clean and nice while it remains perfect; and it is an advantage to the coffee-berry especially not to be brought into immediate contact with heated metal. But porcelain-lined articles are not only very expensive, but they never can be depended on. They are quite as liable to crack and fly in pieces the first time of using as the fiftieth; and, of course, are of no further service.
The Art of Confectionery, Tilton and Co., Boston, 1865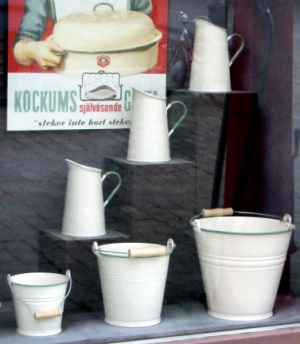 For more info from the site I used, go to
http://www.oldandinteresting.com/enamelware-history.aspx
These are fun to find. This type of vessel is wonderful for dyeing wool or for displaying round things! Or as a planter.
What do you collect? This would look really nice in my home! Too bad I don't have any!
****************************
Classes this week include
Open Studio today... Thur. Dec. 3, 10-4
The last First Friday class tomorrow Dec. 4, 10-4
Next week
Reets/Open Studio Friday Dec. 11, 10-4
Open Studio Sunday Dec. 13, 11-4
and then the last class of this year
Girl Gang, Monday Dec. 14, 10-4
My Dutch kids are coming that week so we will pick up classes in January with
Open Studio Thursday January 7, 2016!!!! 10-4
Watch for some new and interesting classes coming in January.
**************************************
My friend Sandra, shared this blog with me yesterday and I want to share it with you. It is very interesting and full of beautiful pictures on the subject of Penny Rugs.
&&&&&&&&&&&&&&&&
In case anyone is ready for spring!
Thanks for reading my blog. I appreciate you all very much. You add richness and depth to my life and those of you who come to our classes...You are such a blessing to me. Thanks and Thanks and Thanks
Betty
thequiltingb1947@gmail.com
https://www.etsy.com/shop/thequiltingb1947?ref=hdr_shop_menu