Our Song is nearly over!!
On the Eleventh day of Autumn My true love gave to me…
An Acorn from an old oak tree.
Bet you can't wait for the last verse....me too.
Fall's Yummy Harvest
&&&&&&&&&&&&&&&&&&&&&&&
Fettuccine with Sausage & Kale
ingredients
Shop Kitchen ▾
1 pound

fettuccine

1 pound

spicy italian sausage, removed from casing

1/2

cup

heavy cream

1

large bunch kale, trimmed and coarsely chopped

1/2

cup

grated parmesan
directions
In large pot of boiling, salted water, cook pasta until al dente; drain. In large skillet, cook sausage over medium-low until browned, about 7 minutes. Add 1/2 cup water and cream; simmer until reduced by half, about 7 minutes. Add kale; toss until wilted. Remove from heat; toss with pasta. Sprinkle with parmesan
Sounds delicious and very quick.
From Rachel Ray
++++++++++++++++++++++++++
At our Fall Class we were working on these projects.
There seems to be no end to the Autumn Projects to do. I hope you will consider joining us next month.
~~~~~~~~~~~~~~~~~~~~~~~~~~~~~~~~~~~~
Rag rugs, mats & carpets
Sometimes it's hard to be precise about the history and origins of simple domestic crafts and equipment. Writers weren't usually interested in recording the details of everyday housekeeping and low-status domestic crafts until the 19th century. Even then we have limited descriptions of rag rug making before about 1900.
http://www.oldandinteresting.com/history-rag-rugs.aspx for more information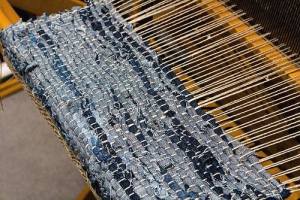 Rag rugs really took off in the 19th century with machine production of cloth. Spinning and weaving were no longer hand crafts, but industrial processes, and fabric was produced in much greater quantity than before. The use of wood pulp instead of cotton rags for paper-making also helped make more used clothing available for rug-making.
##############################
*********************************
Only one more day in our 12 days of Celebrating Autumn. I hope you have enjoyed some of the offerings. It has been fun finding things to add. Hope you have a wonderful weekend. b