Did you know that October 1st is also
World Vegetarian Day
http://www.holidayinsights.com/moreholidays/October/worldvegetarianday.htm
And
Name your Car Day
http://www.holidayinsights.com/moreholidays/October/nameyourcarday.htm
And
Moldy Cheese Day
http://www.holidayinsights.com/moreholidays/October/moldycheeseday.htm
Who Knew??
October is also
Adopt a Shelter Dog Month
Sarcastic Month

And many more
+++++++++++++++++++++++++
And on the 9th Day....
On the Ninth day of Autumn My true love gave to me…
An Acorn from an old oak tree
If you feel like adding a little taste of France on day one of October, here is a sandwich recipe that is served in most French cafe's.
Traditional Croque Monsieur Recipe
INGREDIENTS
·
2 tablespoons
Dijon
mustard
·
8 slices sandwich bread
·
2 1/2 cups grated Gruyere cheese, divided
·
4 tablespoons butter, softened
Preheat the broiler to the lowest heat setting. Evenly divide and spread the mustard on 4 slices of bread. Place a few slices of ham, followed by 1/2 cup Gruyere, on the mustard-side of the bread. Cover the cheese with the remaining slices of bread and spread the butter on the outside surfaces of the sandwiches.
Place the sandwiches on an ungreased baking sheet and broil for about 5 minutes, turn them over, cover with the remaining cheese, and continue cooking until they are crispy and golden brown, about 5 additional minutes.
This recipe makes 4 sandwiches.
~~~~~~~~~~~~~~~~~~~~~~~~~
Something Old and Interesting is found at
http://www.oldandinteresting.com/sugar-nippers.aspx
Until Victorian inventors figured out a way to get sugar to the grocer's shop in ready-to-use granulated form, it was always transported in large cone-shaped sugar loaves. (See below) Households could buy a whole sugar loaf or a lump broken off and sold by weight. But then what? How did people prepare it for kitchen and dining table? Sugar nippers were an important part of the answer.****For more information check out the website.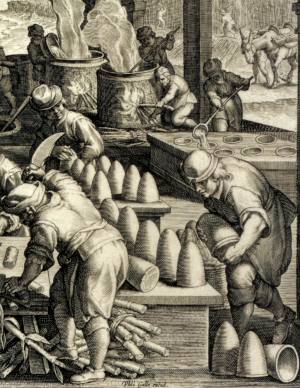 Cone Shaped Sugar Loaf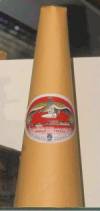 ~~~~~~~~~~~~~~~~~~~~~~~~~~~~~~~~~~~~~~~~
If you are interested in covering boxes check out
http://primitivebettys.blogspot.com/2009/09/friday-finishes-tutorial.html
We used some of these ideas in our Paper Mache box class.
Fun stuff to do.
*********************************
%%%%%%%%%%%%%%%%%%%%%
Remember to be grateful for all your blessings and for friends and family.
Thanks for looking, Betty